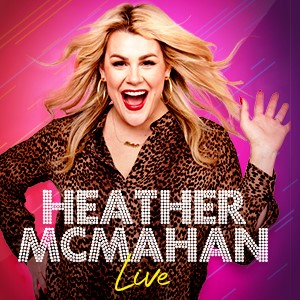 hero image ID: 
string(3) "Yes"
string(1) " "
string(0) ""

DATE: April 15, 2020
LOCATION: James K. Polk Theater
STARTING AT: $45
KNOW BEFORE YOU GO
Due to the unprecedented COVID-19 crisis and efforts to protect the health and safety of patrons, artists, and employees, Heather McMahan's Wednesday, April 15, 2020 shows at TPAC's James K. Polk Theater in Nashville, TN are being postponed; the shows will now take place on Wednesday, September 2, 2020 at 7:00 p.m. and 9:30 p.m. in the same venue.

We appreciate your understanding.

Tickets for the concert will be honored at the rescheduled date on Wednesday, September 2, 2020.
An email was sent to all ticket holders on March 26, providing them their options.
If you did not receive that email, please fill out this survey to let us know which option you prefer.
Note: Please contact us if you have additional questions regarding a performance at TPAC.
For more on TPAC's closure through April 12, visit TPAC.ORG/PatronHealth.
VIP Meet & Greet Package
One premium reserved seat in the first six rows!
Exclusive PRE SHOW meet & greet with Heather McMahan
Personal Photograph with Heather McMahan
Autographed tour poster
Official VIP laminate
Heather McMahan Live!
Tits Up in Tennessee
Thick Neck, Thin Ankles and enough animal print to open her own zoo!
Official Platinum Seating: Platinum Seating provides fans with direct access to securing some of the best seats in the venue at market value. The market value for Platinum Seating is subject to change based on the overall demand and popularity for the event. Platinum Seating allows fans to purchase tickets in a safe and secure environment without running the risk of purchasing tickets that may be considered lost, stolen or counterfeit.