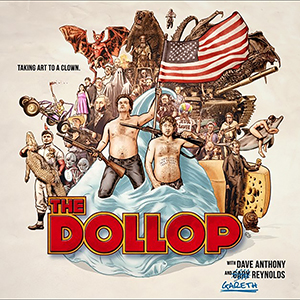 hero image ID: 340188
string(3) "Yes"
string(1) " "
string(31) "November 12, 2020, at 8:00 p.m."

DATE: November 12, 2020, at 8:00 p.m.
LOCATION: James K. Polk Theater
STARTING AT: $35
KNOW BEFORE YOU GO
Due to ongoing health and safety concerns, The Dollop at Tennessee Performing Arts Center, rescheduled for November 12, 2020, has been canceled.
An email was sent to all ticket holders on August 10, providing them their options.
If you did not receive that email, please please use this link to log in to your TPAC.ORG account to let us know how you'd like to proceed. The deadline to respond is September 11, 2020. Any ticket holders who do not respond by that date will have the value of their tickets put on account for future use.
Note: Refunds are only available for tickets purchased directly through the Tennessee Performing Arts Center Box Office. Refunds will be processed within the next 15 days to the original credit card used for the purchase. If your original card is expired, we will issue a check refund to the address on file. We appreciate your patience as the process may take some time. Please contact us if you have additional questions regarding a performance at TPAC.
TPAC is not responsible for the refund practices put in place by secondary ticket providers.
For more on TPAC's closure, visit TPAC.ORG/PatronHealth.
TPAC Concierge mobile tickets are not available for VIP.
VIP INFO:
Best seats in the house
Meet and Greet
The Dollop is a US history podcast with comedian hosts Dave Anthony and Gareth Reynolds. History buff Dave decided to turn his hobby into a podcast. Each episode he reads one weird and disturbing story from the American past to Gareth, who has never heard the tale. Gareth's hilarious reactions are why The Dollop is in the top 20 downloaded comedy podcasts in the US, Canada, and Australia.