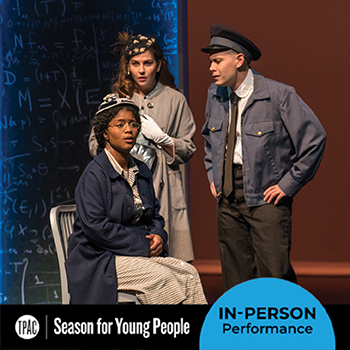 DATE: February 21 – 25, 2022
TIME: 10:30 a.m.
LOCATION: TPAC's Polk Theater
PRESENTED BY: Griffin Theatre Company
FOR SCHOOL GROUPS ONLY
PRICE: $8 per student
RECOMMENDED GRADES: 4 - 7
RUN TIME: 60 minutes
SPECIAL INFORMATION: This performance is live and in-person. Please consult TPAC's Season for Young People policies for any COVID-19 protocols.
DESCRIPTION
What do the Wright Brothers, Thomas Edison, and Rosa Parks have in common? They are masters of innovation — people who learn by doing, stand up for what they believe, and transform the world with their curiosity and perseverance. This stage adaptation of the award-winning television show inspires young audiences with entertaining, educational stories of visionaries like Henry Ford and George Washington Carver. The performance highlights major turning points in the past and present that influenced the fields of science, technology, engineering, math, the environment, and social justice.