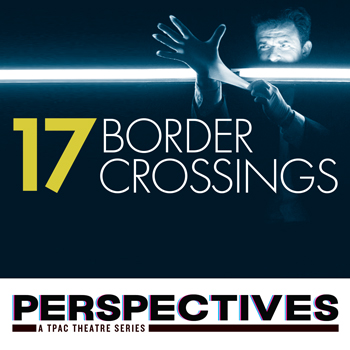 hero image ID: 484340
string(3) "Yes"
string(1) " "
string(16) "June 23-25, 2023"

DATE: June 23-25, 2023
LOCATION: Andrew Johnson Theater
STARTING AT: $40
BUY TICKETS
KNOW BEFORE YOU GO
For information on in-person sales and service visit TPAC's Ticketing Info page.
TPAC's current Patron Entry Policy highly recommend guests ages 2 years and older wear a mask in TPAC venues when not actively eating or drinking regardless of vaccination status.
For more details and TPAC's updated health and safety protocols, visit TPAC.ORG/PatronHealth.
---
Tickets
Please note all tickets for TPAC events are fully digital and accessible via your mobile device through our TPAC Concierge Mobile App. A mobile ticket is the safest, most convenient, and flexible way to receive and manage your tickets while increasing protection against fraud.
---
Accessibility
TPAC is an accessible facility with a variety of services. Visit our Accessible Services page for more information.
---
Perspectives: 17 Border Crossings
A trip around the world via storytelling at its most fluent: award-winning theatre director, designer, and raconteur Thaddeus Phillips uses minimal props and magnetic charm to recreate 17 Border Crossings. Using only lighting, shadows, comedy, drama, and cheap magic, Thaddeus weaves a dramatic, visual, and surreal examination of imaginary lines, arbitrary passports, and curious customs. Climb aboard the communist-era type train on its journey from Prague to Belgrade or lie low in the wheel well of a transatlantic jet to Heathrow. Thaddeus' true-life journeys recreate invasive body searches at Charles de Gaulle, run-ins with Ace of Base on Croatian ferries, KFC smuggling in Palestine, and ayahuasca experiments in the Amazon in this captivating contemplation of the perplexing ins-and-outs of our fragile rite of passage.
17 Border Crossings is a National Performance Network (NPN) Creation Fund Project co-commissioned by The Painted Bride Arts Center in partnership with The MAP and NPN. The Creation Fund is supported by the Doris Duke Charitable Foundation, Ford Foundation, and the National Endowment for the Arts. For more information, visit www.npnweb.org.
Creation, Production Design & Performance:
Thaddeus Phillips