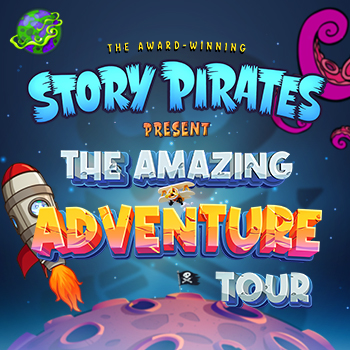 hero image ID: 520974
string(3) "Yes"
string(1) " "
string(29) "October 1, 2023, at 1:00 p.m."

DATE: October 1, 2023, at 1:00 p.m.
LOCATION: James K. Polk Theater
STARTING AT: $30
KNOW BEFORE YOU GO
Get ready for Story Pirates: The Amazing Adventure Tour, featuring fan-favorite songs from the multi-award winning Story Pirates Podcast and improvised sketch comedy based on ideas from kids in the audience. Story Pirates believe that all kids are creative geniuses, and they're ready to prove it with their fast-paced, hilarious, and inspiring show for the whole family, featuring Eric from Story Pirates Podcast, plus a cast of the funniest Story Pirate actors, singers, and comedians around.
Story Pirates, best known for their flagship podcast with more than 70 million downloads, are a family media company that amplifies the words and ideas of kids. The award-winning Story Pirates Podcast takes stories submitted by kids and turns them into sketch comedy and songs with help from celebrity guests. In addition to podcasts, the Story Pirates have released three critically acclaimed middle grade books and five award-winning albums. In partnership with Story Pirates Changemakers, their non-profit arm that brings life-changing arts and literacy tools to under-resourced schools and communities, Story Pirates produce the PBS show Story Pirates Present: SPTV.
Free lap seats for children 12 months and younger will be available at the Box Office beginning 90 minutes before the performance.
---
Enhance your experience with Story Pirates: The Amazing Adventure Tour VIP Add-On!
VIP Add-On is $60 per person and includes a post-show, on stage photo op with the cast! Admission to the performance is not included with the VIP Add-On. This is a separate upgrade that must be purchased in addition to a ticket. Everyone attending the post-show photo-op, regardless of age, must have purchased a ticket to the show and the VIP Add-On. All children must be accompanied by at least one adult. Please make sure to bring your camera, as you will want to capture every moment!
VIP Add-On will be available for purchase during checkout.
---
For information on in-person sales and service visit TPAC's Ticketing Info page. For more details about TPAC's patron entry protocols, visit TPAC.ORG/ShowUpdates.
---
Tickets
· Please note all tickets for TPAC events are fully digital and accessible via your mobile device through our TPAC Concierge Mobile App. A mobile ticket is the safest, most convenient, and flexible way to receive and manage your tickets while increasing protection against fraud.
· TPAC is not responsible for tickets purchased through the secondary market. If your order confirmation was not sent by no-reply@tpac.org, you did not purchase your tickets from TPAC. Visit TPAC.ORG/BuyerBeware for more information.
---
Accessibility
· TPAC is an accessible facility with a variety of services. Visit our Accessible Services page for more information. James K. Polk
· Wheelchair accessible seating is located at the back of the orchestra level.
· There is no elevator access to Grand Tier level.
· All non-accessible seating requires taking stairs.