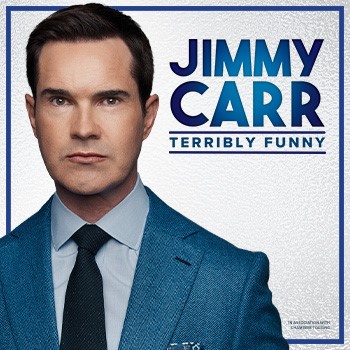 hero image ID: 518657
string(3) "Yes"
string(1) " "
string(16) "October 10, 2023"

DATE: October 10, 2023
LOCATION: James K. Polk Theater
STARTING AT: $35
KNOW BEFORE YOU GO
This presentation is a licensed event and not affiliated directly with the nonprofit Tennessee Performing Arts Center.
Public On Sale (9:30 p.m. performance): Tuesday, April 11, 2023, at 12:00 p.m.
One of the biggest-selling comedy acts in the world, Jimmy consistently performs stand-up to sell-out crowds across the globe. At the latest count he has taken tour shows to over forty different countries. His last tour, Best Of Ultimate Gold Greatest Hits, sold over 480,000 tickets globally with current show, Terribly Funny, exceeding that figure by the end of 2022. The tour continues in to 2023 with shows in Australia, New Zealand, Canada and beyond.
---
For information on in-person sales and service visit TPAC's Ticketing Info page.
For more details about TPAC's patron entry protocols, visit TPAC.ORG/ShowUpdates.
---
Tickets
Ticket Limit: 6 tickets per household.
Please note all tickets for TPAC events are fully digital and accessible via your mobile device through our TPAC Concierge Mobile App. A mobile ticket is the safest, most convenient, and flexible way to receive and manage your tickets while increasing protection against fraud.
TPAC is not responsible for tickets purchased through the secondary market. If your order confirmation was not sent by no-reply@tpac.org, you did not purchase your tickets from TPAC. Visit TPAC.ORG/BuyerBeware for more information.
---
Accessibility
TPAC is an accessible facility with a variety of services. Visit our Accessible Services page for more information.
James K. Polk
Wheelchair accessible seating is located at the back of the orchestra level.
There is no elevator access to Grand Tier level.
All non-accessible seating requires taking stairs.
---
Jimmy Carr Bio:

Jimmy is a household name in UK television, well known for hosting Channel 4's 8 Out Of 10 Cats, 8 Out Of 10 Cats Does Countdown and Big Fat Quiz Of The Year in addition to presenting Comedy Central's Roast Battle UK and Your Face Or Mine. He is a regular on all the top panel shows, including QI and A League Of Their Own, has performed as part of The Royal Variety Performance three times, is a judge on hit BBC1 entertainment series I Can See Your Voice and the host of brand-new Channel 4 gameshow I Literally Just Told You.

Jimmy is also a high-profile name in North America. He was the first UK comedian to sign a stand-up deal with streaming behemoth Netflix in 2015, releasing three specials on the platform, Funny Business (2016) and Best Of Ultimate Gold Greatest Hits (2017) and His Dark Material (2021) which was Netflix's most watched stand-up comedy special in the UK that year. He also presented and exec-produced an original panel show format for Netflix, The Fix, and has been a guest multiple times on US staples such The Tonight Show, The Late, Late Show and Late Night With Conan O'Brien. He has performed at the Montreal Just For Laughs Comedy Festival since 2003 with more appearances than any other UK act in that time.

Before making the move to streaming, Jimmy was one of the bestselling acts in the comedy DVD market, his eight titles (Live, Stand-Up, Comedian, In Concert, Telling Jokes, Making People Laugh, Being Funny and Laughing & Joking) selling over 1.2 million copies between them. These shows are now all available on Jimmy's YouTube channel, where he has accrued over 758,000 subscribers and 210 million views since launching in 2018.


Jimmy is also a published author. He co-wrote The Naked Jape: Uncovering the Hidden World of Jokes in 2007 and his highly anticipated memoir Before & Laughter was released in September 2021, making The Sunday Times Bestsellers list.