Join us for the Nashville Rep's 39th Season this year. With a mixture of musicals, plays, shows in Polk Theatre, and shows in the Johnson Theatre, everyone can find something to enjoy this year at the Nashville Repertory Theatre!
Select your preferred package and purchase a season ticket to the Nashville Rep.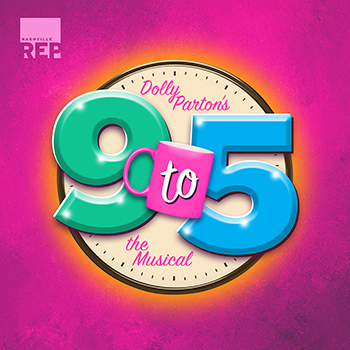 9 to 5
Music and Lyrics by Dolly Parton
September 8-17, 2023
Based on the hit 1980 comedy film, 9 to 5 follows three working women who take revenge on their sexist, lying, hypocritical, egotistical, bigoted boss.  In a hilarious turn of events, Doralee, Violet and Judy live out their wildest fantasy of taking control of their lives!  With an energetic score by Nashville's own Dolly Parton, this high-energy musical celebrates female empowerment and equality in the workplace.  With such songs as "Shine Like the Sun," "Backwoods Barbie," and the title song "9 to 5," this show promises to be a rip-roarin', toe-tappin' good time!
By Charles Dickens
December 1-17, 2023
In this new, heartwarming, and spectacular production of A Christmas Carol, Artistic Director Micah-Shane Brewer brings Charles Dickens' classic story to life on stage. Join the ghosts of Christmas Past, Present and Future as they lead the miserly prosperous curmudgeon Ebenezer Scrooge on a journey of transformation and redemption. Through these encounters, Scrooge learns the true meaning of Christmas and the importance of kindness and generosity. The production features stunning sets and costumes that transport the audience to Victorian England, and the timeless story is sure to be loved by audiences of all ages..
By Paula Vogel
February 2-18, 2024
Paula Vogel's Indecent is a powerful and poignant play inspired by the true events surrounding the controversial 1923 Broadway debut of Sholem Asch's God of Vengeance—a play seen by some as a seminal work of Jewish culture, and by others as an act of traitorous libel.  Indecent follows the journey of the play's cast and crew as they navigate the challenges of artistic expression and the repression of their voices. Indecent explores the impact of censorship on art and is a moving tribute to the resilience of artists and the power of art to transcend borders and time.
Based on the novel written by Alice Walker
April 5-14, 2024
The Color Purple is a stirring and soulful musical that tells the story of Celie, a young woman who endures years of abuse and hardship at the hands of the men in her life. Along the way, Celie forms close bonds with other women, including the vibrant and independent Shug Avery and the strong and fierce Sofia. Through the power of sisterhood and self-discovery, Celie finds her voice and breaks free from the chains of oppression. Based on the Pulitzer Prize-winning novel by Alice Walker and the hit 1985 movie, The Color Purple has an unforgettable score mixed with gospel, blues, and jazz. The Color Purple is a moving and inspiring story of hope and a celebration of life and the human spirit.
By Selina Fillinger
May 10-19, 2024
The roof is about to blow off of 1600 Pennsylvania Avenue.  When the President of the United States spins a PR nightmare into a global crisis, the seven women he relies on must risk everything to keep the commander-in-chief out of trouble. In POTUS: Or, Behind Every Great Dumbass Are Seven Women Trying to Keep Him Alive, this fiercely feminist farce will have audiences rolling in the aisles!  POTUS is a biting satire that highlights the challenges faced by women in positions of power and the absurdity of contemporary politics.
Tennessee Performing Arts Center continues to adjust health and safety protocols according to recommendations of health and government officials. At this time, our Patron Entry Policy no longer requires proof of a negative COVID-19 test or vaccination, and masks are recommended for Theatre Series performances.
Find the latest event-specific entry policies at TPAC.ORG/ShowUpdates.
All visitors must follow TPAC's health protocols which are designed to protect the safety and well-being of our artists, patrons, educators, students, staff, and volunteers. TPAC protocols are developed from recommendations by the Centers for Disease Control and Prevention (CDC), the Occupational Safety & Health Administration (OSHA), local health officials, and TPAC's official health and safety partner, HCA Healthcare/TriStar Health. They may be modified according to current public health and government directives. By visiting TPAC, you voluntarily assume all risks of exposure to COVID-19 and other communicable diseases. We encourage all TPAC guests to take precautions, as recommended by the CDC, to protect themselves and others in public spaces. Please help keep each other safe.